Piece Assorting System PAS Series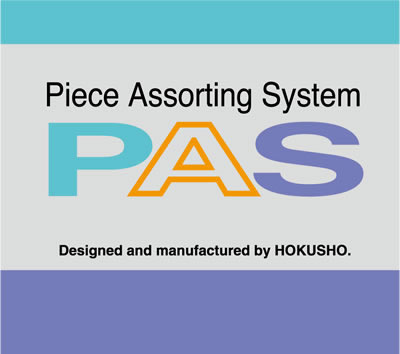 What is PAS (Piece Assorting System)?
PAS is a self-contained piece assorting system that automates the work of sorting small items by store and by category at the individual piece level. This mixed-order sorting system is a combination of high-performance piece sorter and information management system. With its simple, tool-like operation, there is no need to train a dedicated operator.

PAS is much more than just a sorting conveyor.
It's a cutting-edge sorting system that responds to your company's ideas and is as easy to use as any traditional tool.
Piece Assorting System PAS Series [Play time] 21 minute, 50 seconds

High-precision, low-stress
Quantity counting work is where human error manifests itself most, undermining the strict delivery accuracy that customers demand now more than ever. Letting PAS take over quantity counting tasks not only relieves stress on workers, but also reduces the delivery error rate to almost zero.

Boosting manufacturing power through team play
Today, there is an increasing demand for deliveries by section, and the majority of time taken in conventional picking is spent on labor. PAS enables team play, where each worker has an individual role instead of repeating tasks done by other workers. This means that productivity increases even with the same number of workers, allowing work to proceed unhindered by focusing on sections and maintaining a high level of delivery service.

Simple, foolproof operation
Increasing the level of delivery service drives up costs, and cutting costs drives down the level of service. PAS is a sensible solution to this dilemma. That's because it was designed as a tool, allowing anyone to use it without ever making a mistake – there's no need for a dedicated operator.

Utilizes individual product management data
PAS surpasses the questionable reliability of vague aggregate data, eliminating errors in quantity checks, sorting by store and by item category. Also, unlike a fully automatic machine, PAS does involve handling work, meaning that product abnormalities (broken goods, etc.) can be easily singled out.

Compatible with a wide range of product shapes
Because PAS can transfer products with a variety of shapes and sizes, you can continue using it even if your company's product line changes after installation.
Piece sorter + feeding conveyor + chute unit managed by information control system

Low temperature parcel distribution center (TC&DC)

DIY goods distribution center (TC&DC)

CD and video software distribution center (DC)

Home electronics distribution center (TC&DC)

Publication returns receiving center (returns receiving)

Home and office electronics supplies distribution center (DC)

Health care products distribution center (DC)

Camera and photographic supplies distribution center (DC)

Shoes distribution center (DC)
HOKUSHO VIDEO LIBRARY
These videos show the system in motion, which cannot be expressed just by a catalog.

Sloped chute type
PAS I: Household commodity distribution center

[Play time] 1 minute

PAS I: Book return and recycling center

[Play time] 1 minute

PAS II: Frozen food distribution center

[Play time] 1 minute

PAS I: Frozen food low-temperature distribution center

[Play time] 1 minute

PAS I: Clothing processing and distribution center

[Play time] 1 minute

PAS I: Clothing processing and distribution center

[Play time] 1 minute

PAS I: Sportswear Distribution Center

[Play time] 1 minute

PAS I: Mountaineering Goods Distribution Center

[Play time] 1 minute

PAS I: Clothing distribution center

[Play time] 1 minute

PAS I: Clothing returns recycling center

[Play time] 1 minute

〈RFID automatic input〉PAS I : Clothing distribution center

[Play time] 1 minute

〈Catch the Peak〉RFID Automatic Input System PAS I : Clothing management center

[Play time] 1 minute, 30 seconds
Belt conveyor chute type
PAS II: Household appliance recovery center

[Play time] 1 minute

PAS I: Household appliance distribution center

[Play time] 1 minute

PAS II: Pharmaceuticals distribution center

[Play time] 1 minute

PAS II: Automobile-related product distribution center

[Play time] 1 minute

PAS I: Medical supplies/ pharmaceuticals distribution center

[Play time] 1 minute

PAS II: Foodstuff distribution center

[Play time] 1 minute

PAS II: Foodstuff distribution center

[Play time] 1 minute

[High-Speed] PAS II: Cosmetics/Pharmaceuticals Distribution Center

[Play time] 1 minute

PAS I: Paper Products Distribution Center

[Play time] 1 minute

<Auto-feeding via robot> PAS I: Office electronics and supplies distribution center

[Play time] 1minute, 30seconds

[High-Speed] PAS II : Cosmetics/household goods distribution center

[Play time] 1 minute

PAS I : Luxury goods distribution center

[Play time] 1 minute

[High-Speed] PAS II : Foodstuffs/beverages delivery center

[Play time] 1 minute

[High-Speed] PAS II : Foodstuffs/beverages delivery center

[Play time] 1 minute

PAS Iα: Food low-temperature distribution center

[Play time] 1minute, 30seconds

PAS I: Food low-temperature distribution center

[Play time] 1 minute
Roller conveyor chute type
PAS Iα: Foodstuff chilled distribution center

[Play time] 1 minute

PAS I: Video software distribution center

[Play time] 1 minute

PAS I: Foodstuff chilled distribution center

[Play time] 1 minute

PAS Iα: Food low-temperature distribution center

[Play time] 1 minute

PASⅠ:Footwear distribution/processing center

[Play time] 1 minute

PASⅠ:Footwear distribution/processing center

[Play time] 1 minute