Vertical Transfer System – VTS Series

What are vertical transfer systems (vertical conveyors)?
A VTS is a cargo-only transfer system with a vertical transfer route, made up of a vertical transfer section with mechanisms for raising cargo (the main vertical transfer machine) and a horizontal transfer section with mechanisms for automatically loading or unloading cargo (a loading/unloading conveyor or device). These are automated and function as a single piece of transfer equipment - the VTS.
*VTS are designed for cargo only, so under no circumstances may people ride on them.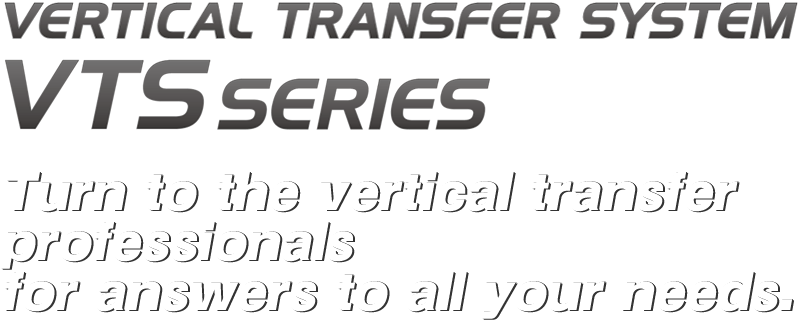 Just like the people who staff them, every distribution facility is unique.That's why we customize our vertical conveyors for each facility.Our mission is to optimize each and every facility we work on.
Hokusho has designed each of its vertical conveyors to be adaptable to various sites. Based on our track record of successfully meeting the needs of clients with various requirements for cargo (shape, size, weight, etc.) and site conditions (fire prevention, low temperature, explosion proof, rust prevention, cleaning measures, etc.), we have the professional know-how to face the challenge of responding to new needs.
Vertical Transfer Systems VTS Series[Play time] 20 minute
Vertical continuous transfer machine

VERTILATOR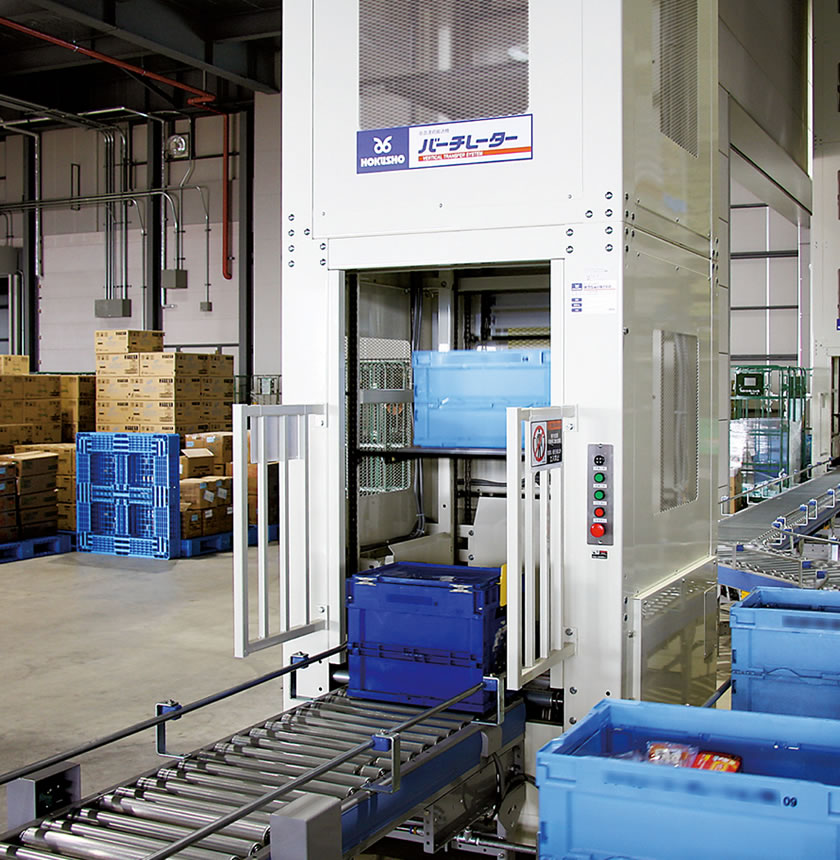 Simple continuous transfer between two points enables transfer of the maximum quantity of goods in the minimum amount of time.

HOKUSHO's Vertilator vertical transfer system has all the advantages of an escalator and a conveyor. It sets the standard for vertical transfer systems and is a longstanding bestseller that users have relied on ever since it was first released.
Because it is easy to construct a three-dimensional continuous transfer line by combining various types of conveyors, the cutting-edge capabilities of the Vertilator are being used not only in warehouses and delivery centers, but also in all kinds of distribution facilities.

Vertilator Z Type (animation)
[Play time] 30 seconds
Vertilator C Type (animation)
[Play time] 30 seconds
Vertical reciprocating transfer machine

AUTOLATOR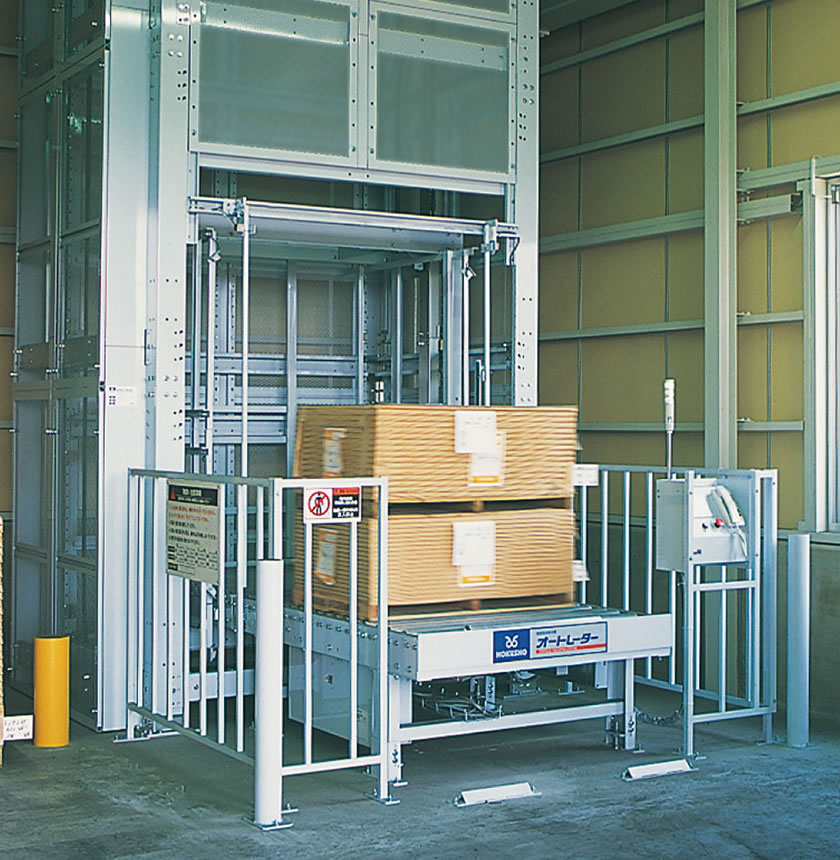 Multi-floor, random transfer is now a reality in all types of manufacturing and istribution.

HOKUSHO's Autolator vertical transfer system combines the advantages of elevators and conveyors, allowing for speedy transfer to any floor at the push of a button.
Because the Autolator saves time by automatically inserting and withdrawing the objects being transferred, it offers a huge improvement in performance over cargo elevators. In recent years, shipping centers, factories, and large-scale shopping centers have become multi-floored, and the Autolator is an outstanding response to the need for a transfer device that is adaptable to various product types and quantities.

Autolator (animation)
[Play time] 1 minute
Autolator Floor Circulation Transfer Flow (animation)
[Play time] 2 minute
Autolator Floor Circulation E Type Transfer Flow (animation)
[Play time] 1 minute
Vertical sorting and transfer machine

HIGH-TRAY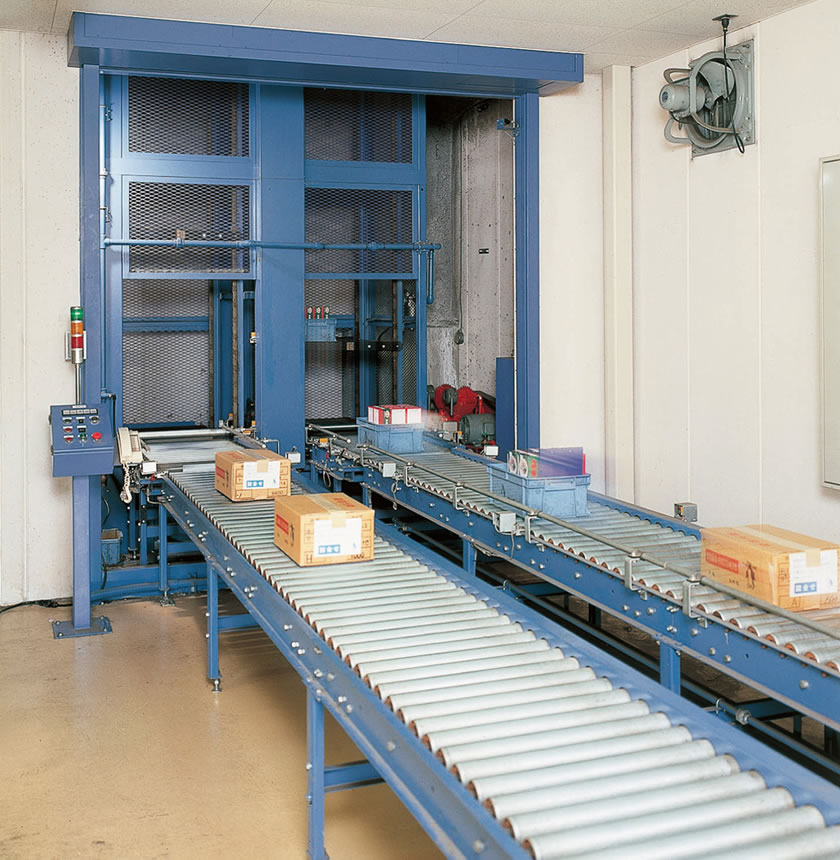 Heavy-duty, random transfer across multiple floors with both continuous transfer and automatic sorting, is now a reality.

HOKUSHO's High-Tray vertical transfer machine is a multi-transfer system that combines the strengths of the Vertilator and Autolator, allowing for not only automatic, random sorting by destination floor, but also simultaneous insertion and withdrawal on all floors.
The High-Tray fits a vast range of purposes. It is currently in use at many different types of multi-floor distribution facilities, such as catering and waste disposal in event buildings, transfer of garments in the apparel industry, and transfer of documents in the financial industry.

High-Tray (animation)
[Play time] 1 minute
HOKUSHO VIDEO LIBRARY
These videos show the system in motion, which cannot be expressed just by a catalog.

Light load models
High-Tray Light-Duty

[Play time] 1 minute

Autolator Light-Duty

[Play time] 1 minute

Vertilator Light-Duty

[Play time] 1 minute

Autolator Light-Duty

[Play time] 1 minute

High-Tray Light-Duty

[Play time] 1 minute

Vertilator Light-Duty Lightweight Type

[Play time] 1 minute

High-Tray Light-Duty

[Play time] 1minute, 30seconds

Vertilator Light-Duty Lightweight Type

[Play time] 1 minute

Autolator Light-Duty Clean Type

[Play time] 1 minute

High-Tray Light-Duty Belt Tray Type

[Play time] 1 minute

Vertilator Light-Duty Stainless Steel

[Play time] 1 minute

High-Tray Light-Duty

[Play time] 1 minute

Vertilator Light-Duty

[Play time] 1 minute

Vertilator Light-Duty

[Play time] 1 minute

Autolator Medium-Duty (for 2-stage transfer)

[Play time] 1 minute

Multi-Floor Vertilator Light-Duty Low-Temperature Environment

[Play time] 1 minute

Belt Vertilator Light-Duty

[Play time] 1 minute

Autolator Medium-Duty

[Play time] 1 minute

Belt Autolator Medium-Duty (for 2-stage transfer)

[Play time] 1 minute

Belt Vertilator Light-Duty

[Play time] 1 minute

Belt Vertilator Light-Duty

[Play time] 1 minute
Medium Load Models
Vertilator Medium-Duty Cart Handling Type

[Play time] 1 minute

Autolator Medium-Duty Stainless Steel

[Play time] 1 minute

Shuttle Autolator Medium-Duty

[Play time] 1 minute

Autolator Medium-Duty

[Play time] 1 minute

Belt Autolator Medium-Duty

[Play time] 1minute, 30seconds
Heavy Load Models
Vertilator Heavy-Duty Cart Handling Type

[Play time] 1 minute

Autolator Heavy-Duty

[Play time] 1 minute

Autolator Heavy-Duty Floor Circulation Type

[Play time] 1 minute

Autolator Heavy-Duty Floor Circulation E Type

[Play time] 1 minute

Autolator Heavy-Duty

[Play time] 1 minute

Shuttle Autolator Heavy-Duty

[Play time] 1 minute

Autolator Heavy-Duty Floor Circulation Type+VEAS

[Play time] 1minute, 30seconds

Autolator Heavy-Duty Floor Circulation Type+VEAS

[Play time] 1minute, 30seconds

Autolator Heavy-Duty Floor Circulation E Type

[Play time] 1minute, 30seconds

Autolator Heavy-Duty Floor Circulation E Type+VEAS

[Play time] 1minute, 30seconds

Shuttle Autolator Heavy-Duty

[Play time] 1minute, 30seconds

Shuttle Autolator Heavy-Duty

[Play time] 1minute, 30seconds

Autolator Heavy-Duty Low-Top Built-in air shower booth type+VEAS

[Play time] 1minute, 30seconds

Autolator Heavy-Duty +VEAS

[Play time] 1minute, 30seconds

Autolator Heavy-Duty Floor Circulation Type

[Play time] 1minute, 30seconds

Autolator Heavy-Duty Floor Circulation Type

[Play time] 1 minute

Autolator Heavy-duty floor transfer

[Play time] 1 minute

Vertilator Heavy-Duty

[Play time] 1 minute

Autolator Heavy-Duty +E-VEAS BCP-Compatible Vertical Transfer Systems

[Play time] 2 minute, 30 seconds

Autolator Heavy-Duty Floor Circulation E Type+VEAS

[Play time] 1minute, 30seconds

Autolator Heavy-Duty Low Top Floor Circulation Type +VEAS AGV Automatic Transfer System

[Play time] 1minute, 30seconds

Shuttle Autolator Heavy-Duty

[Play time] 1 minute

Autolator Heavy-Duty+Lift Conveyor

[Play time] 1 minute

Autolator Heavy-Duty +E-VEAS BCP-Compatible Vertical Transfer Systems

[Play time] 2 minute, 30 seconds